Cover Art, Music, Apparel
ACAP turns 10!
Ladies and gentlemen, we are pleased to announce that we have an announcement to make
Ten years PANDA! We celebrate our 10th anniversary with two own PANDA-Songs. The idea to have our own song is not new. Patrick has been talking about that for years now and at a certain point, we all said: why not.
And why stop having just one song? Why not make a second one and put these on vinyl? That is what we came up with now. We worked together with Isaac Haze and DJ C.S.P. to produce a two-track 7" on clear pink vinyl, pressed 150 times. 120 of these beauties will be for sale – for a good cause!
Every vinyl is available in our webshop within a bundle that also includes a premium Russell Athletics T-Shirt and an ACAP cutout sticker. In addition to the standard bundle, we will also offer 10 test pressings. Sleep now, cry later – cause real shit is rare like a PANDA!

"The complete income will be donated to social institutions that are listed below. Go support us for a good cause!"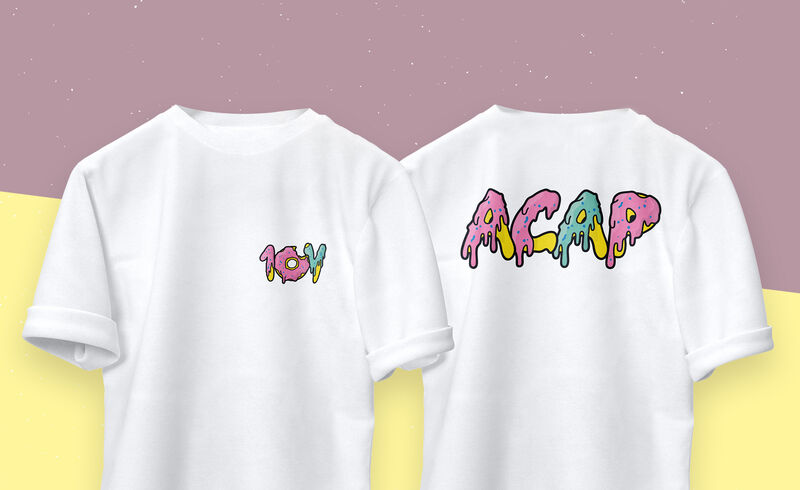 The minimum price for the bundle is 30 €. But please feel free to give what you feel like. The complete income will be donated to the following social institutions:
The test pressing has a fixed price and is available for 25 € each. Go support us for a good cause & don't sleep on this piece of history in our shop.
Please note that we only ship to Germany by default. If you would like to order from another country, please send us an email to acap@panda.me and we will see what's possible.
Listen and repeat
Thanks again and again to Isaac Haze for the perfect production, DJ C.S.P. for the tremendous cuts and your constant support on our 10th-anniversary project & Carsten Bunse for the mastering of both tracks. Thank you, Flo of Sieben Siebe, for supporting us with the t-shirt production. Not to forget Britta of handle with care – thanks for answering all our questions with a smile!
Why ACAP? As you all know the meaning of PANDA doesn't have its origin in the animal but in Patrick and Aline, P – AND – A. And because a lot of people ask us why Clemens is not involved in our company name we gave PANDA a little twist for this anniversary project and came up with ACAP which obviously stands for Aline, Clemens and Patrick. 10 years – off to the next decade!

Update: our fine pink vinyl just arrived. And it looks as it sounds - just great 💥
T-Shirts will arrive hopefully soon so that we can start shipping as supposed. A lot of bundles have already been sold and we already collected over 2000€ for the good cause 🙏

Thanks to everybody that supports our 10th anniversary project 💪💪💪